Monument Valley was a relatively unknown area until the 1930s. In 1938, John Ford, a director, fell in love with the area and chose the location for his well-known western film, Stagecoach. Monument Valley became an integral part of his films and was featured in many more over the years. Ford's films made Monument Valley one of the most familiar landscapes in the United States. They really put the region on the map and were the beginning of its increasing popularity. The area's beautiful red sandstone buttes and panoramic views have become symbolic of the American West and are usually the first thing that comes to mind when one pictures the southwest today.
Many visitors tend to drive into Utah and stop at the popular Forrest Gump Point. From here, they take advantage of the terrific photo ops and take in Monument Valley from a distance. However, Monument Valley is a place you should get up close and personal with. Trust me, you don't want to skip over it. It will be a highlight of your southwest road trip. In this guide you will learn everything you need to know before visiting this incredible park and embarking on your own Monument Valley scenic drive.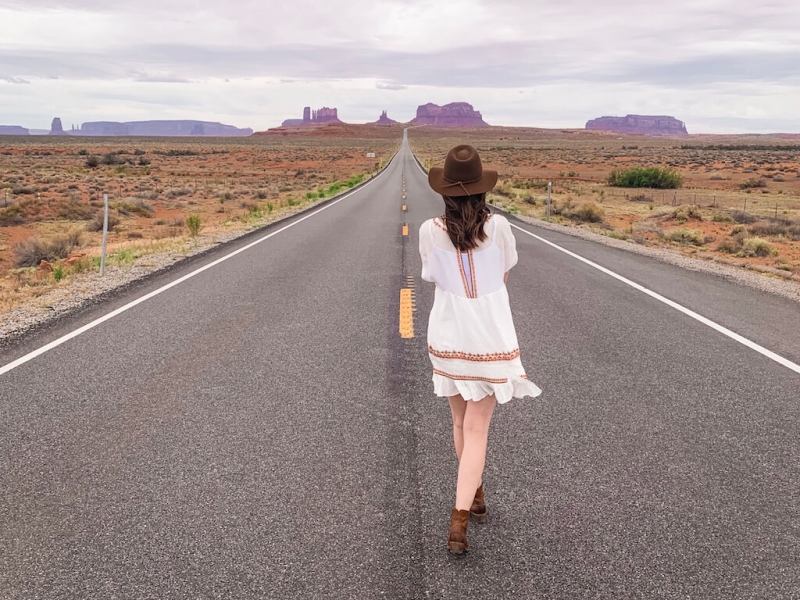 What is Monument Valley?
Monument Valley Park is a desert region of the Colorado Plateau. It is not an official national park, but belongs to the Navajo Nation and thus, a Navajo Tribal Park. It's a stunning collection of varying rock formations, famous for its dramatic sandstone buttes and mesas. The elevation from the valley floor ranges from 5,000 to 6,000 feet above sea level, with the largest of the buttes being 1,000 feet above the canyon floor.
Where is Monument Valley?
Monument Valley is located off the US-163, just north of the Arizona and Utah border. It's not a difficult place to reach, but it is somewhat remote and requires a car and a little planning. It's best done as part of a Southwest road trip. There are a handful of airports you have the option of choosing from, but your best bet is to fly into Phoenix and rent a car. The closest airport is actually Flagstaff, but a change of planes is necessary, so it is easiest to just drive directly from Phoenix. The drive from Phoenix is 330 miles and takes about five hours, but there are some great stops along the way, such as the Grand Canyon and the beautiful sights of Page, AZ. Other airport options include:
Las Vegas – 410 mi
Salt Lake City – 390 mi
Albuquerque – 330 mi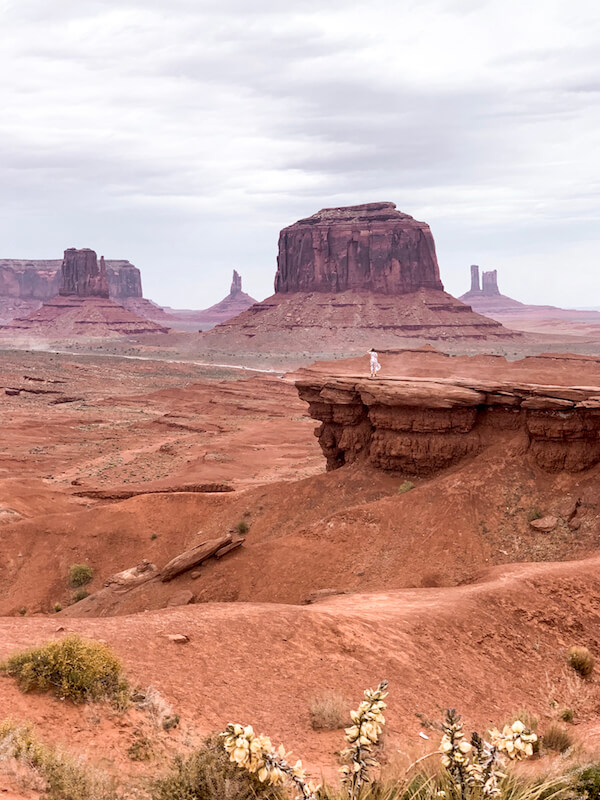 How to Visit Monument Valley
There are two options when it comes to exploring Monument Valley- either with a Navajo guide or through a self-guided tour. The self-guided tour is an easy-to-follow, 17 mile scenic drive loop, referred to as the Valley Drive. If you wish to explore beyond the loop, you will need to make tour arrangements since it is tribal land. Trespassing is not allowed and visitors need to respect and abide by the rules set by the Navajo government. There are sunrise and sunset tours, as well as photography tours available to choose from.
I recommend doing a self-guided tour, or scenic drive. General admission is $20 per vehicle, up to four passengers, with each additional passenger being $6. A map of the loop will be handed to you upon entry with all the major points marked. The entire loop is completely unpaved, so be prepared for a very bumpy and dusty ride. I knew very little about Monument Valley before my visit and when renting a car, I chose a small, compact vehicle. However, I would recommend renting a 4×4. I drove very slowly and didn't experience any major difficulties with my car, but some of the steeper hills did present more of a challenge and were somewhat worrisome. There was some rain the day before, but I definitely wouldn't have risked it if there was significant water on the ground.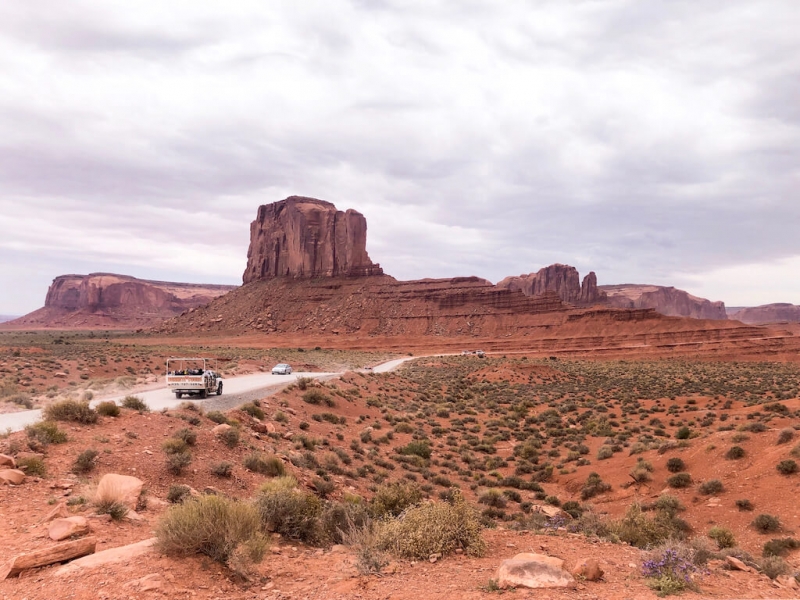 What to See in Monument Valley
There are eleven lookout points along the loop and one self-guided hiking trail in the park. It's easy to see all the major sights on the drive. Some points that you will want to be sure not to miss are:
John Ford Point : John Ford Point is probably the most popular stop. It is easily recognizable from Ford's westerns. For an additional fee you can take a photo of a horse and cowboy out on the point or even sit on the horse yourself.
Merrick and Mitten Buttes: The three large buttes known as Merrick, East Mitten and West Mitten are located in the same general area and form a triangle. When viewed from the south, the Mitten Buttes actually resemble mittens with thumbs facing inward.
Artist Pointe: This lookout has an incredible view of West Mitten Butte, East Mitten Butte, and Merrick Butte. It's also a great spot for sunrise.
Wildcat Trail is the only self-guided hiking trail in the park. It's a 3.2 mile loop that takes about three hours to compete. The trail offers hikers some amazing scenery and takes them to incredible views of the Mitten Buttes and Merrick Butte. There are some other trails in the area, but you will need to be accompanied by a guide to access them.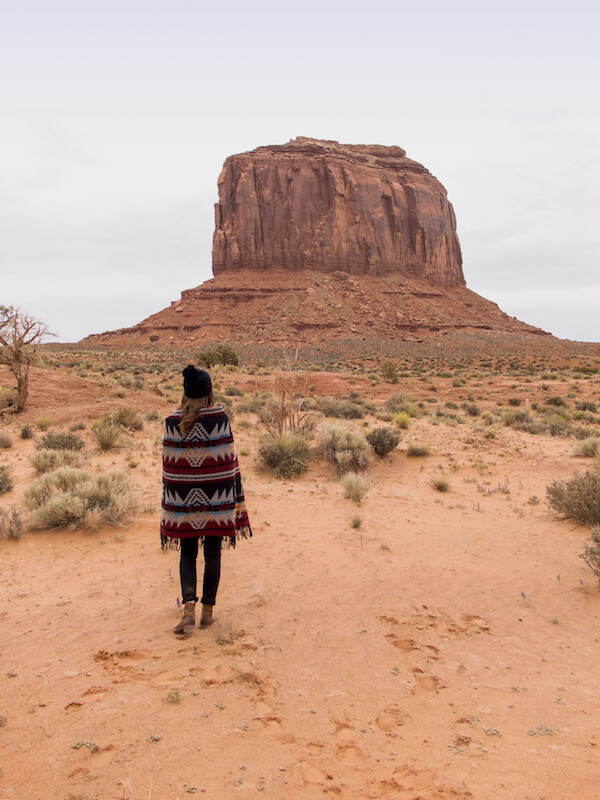 How Much Time Do I Need There?
The Valley Drive can be done in two hours, but if you want to do any hiking or exploring beyond the loop, I suggest giving yourself at least a day and stay a night in the area. Monument Valley is a gorgeous place to catch either sunrise or sunset, which makes an overnight stay totally worth it.
While driving in and around Monument Valley, I noticed the time on my phone changing. It's important to be aware of the time differences between Arizona, Utah and the Navajo Nation when planning your day. Arizona does not observe daylight saving time and uses standard mountain time. Utah and Navajo lands, however, do observe daylight saving. This is something you will want to keep in mind, especially if you have tours booked.
When to Visit Monument Valley
Monument Valley has a desert climate with hot summers and cold winters. Temperatures can get high in the summer months, but it doesn't get as hot as one would think because of the altitude. Summers, however, are the most crowded and the road is usually packed with visitors. Winters can see light snowfall, but the snow usually stays on the ground for only a day or two. Spring or fall is the ideal time to visit with mild weather. You'll be able to avoid both the extreme temperatures and the crowds. April through June are the more windy months. I visited in May and temperatures were mild, but it was incredibly windy and made for a very dusty experience. I still had a great time; just be prepared and bring a jacket.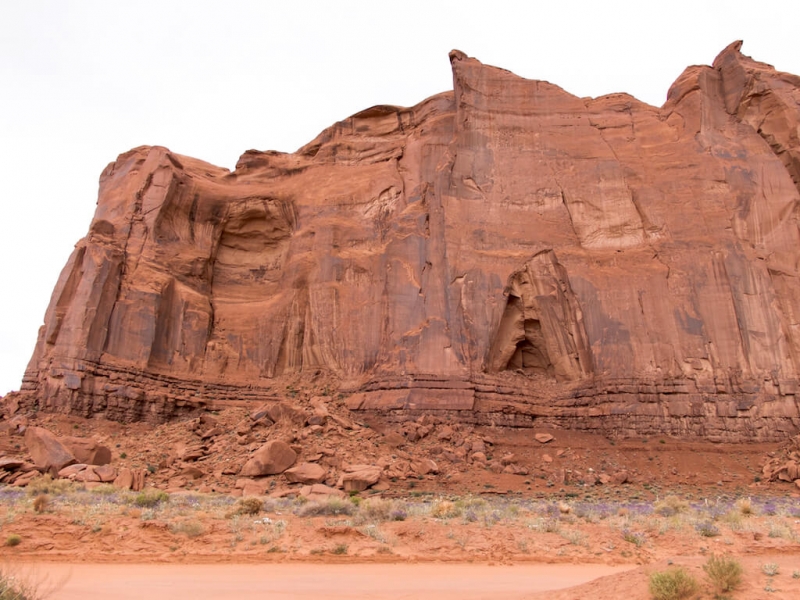 Where to Eat & Stay in Monument Valley
When it comes to hotels in Monument Valley, there are very few options. I would suggest The View Hotel or Goulding's Lodge. Both of these hotels book up well in advance and can get expensive, so I recommend making reservations as early as possible. If you find them booked, don't let that stop you from visiting the park. I opted to use Page, AZ as a home-base and make Monument Valley a day trip, which worked out well for me. Goulding's also offers camping with the option of an RV site or traditional tent.
When it comes to food in Monument Valley, the options are limited as well. There is The View Restaurant and Stagecoach Restaurant, which are located in the above mentioned hotels. They serve a combination of Navajo and classic plates, such as burgers. The food is pretty average. I would choose The View Restaurant, not for its food, but for its views of the valley. Be aware that the restaurants are not open at all hours and although they do serve breakfast, lunch and dinner, they have specific hours for each meal.
Other Things to Know
You will want to check the official site of the Navajo Nation for park hours and Navajo holidays before planning your visit.
If you're only driving the loop, getting out of the car isn't really necessary, but I would wear sneakers nonetheless. It's really dusty.
Don't forget to bring water and sunscreen.
Credit to travelworthtelling.net
Please contact us for removal if there is any copyright infringement.